Fiat 500 Airbag Module No Communication Fault
A common fault on the Fiat 500 is for the airbag control module (also known as airbag ecu) to become defective and illuminate the srs airbag warning light on the dash display.
Symptoms of a faulty airbag module vary but can be one or more of the following:
SRS airbag warning light on
Fuel cut off unavailable message on the dash display
Flashing mileage display
Blowing airbag system fuses
No communication with diagnostic scanners
Unable to perform any diagnostics on the airbag system
These are all classic symptoms when a fiat 500 airbag module is internally faulty and your options are either to replace or repair the airbag module.
Fiat dealerships charge about £600 to supply and fit a new airbag module.
We now offer a repair service to repair your existing Fiat 500 airbag module (black plastic type only) for £125 all inclusive with a 3 month return to base warranty (*Terms apply).
The repair takes 1 - 2 working days & then we return the module with Royal Mail Special Delivery.
Once it is re-installed in the car most modules will plug & play but sometimes the odd one will need proxi alignment performing which is the procedure to sync the module to the car.
This a simple procedure which is done with a diagnostic computer. It doesn't need to be any special or high level diagnostic computer, in fact most which can talk with the airbag system will be capable of running proxi alignment, examples are Delphi or WOW diagnostics, Launch X431 & Fiat "multiecuscan" (Multi ECU Scan).
If you don't have access to a diagnostic computer then an independent garage or mobile technician would probably charge about £40 for this job.
Airbag modules part numbers covered by this service are :
51870005 , 51897810 , 51918659, 51918197, 51838580, 51963734
We also repair Alfa Mito , Fiat Punto & Ford Ka airbag modules provided they are the same black plastic type.
How to order our repair service
To arrange a repair please email: sales@airbagreset.com
If you have the earlier module in the metal casing then please email us for a repair quote.
If outside of UK please email us for a quote: sales@airbagreset.com
* 3 month standard return to base warranty - excludes consequential losses such as labour & diagnostic charges you may have incurred.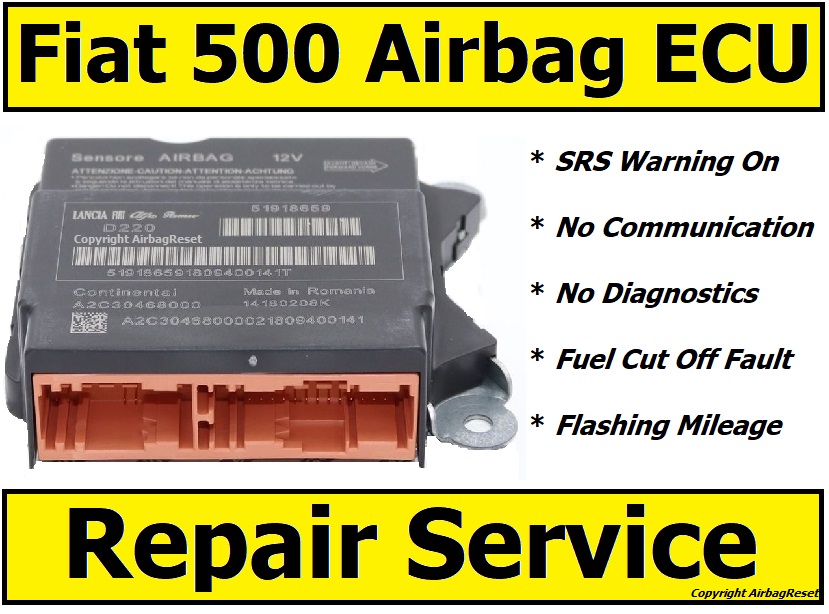 <>*
Copyright © 2005 - 2022 airbagreset.com