Fiat 500 Airbag Module No Communication Fault
A common fault on the Fiat 500 is for the airbag control module (also known as airbag ecu) to become defective and illuminate the srs airbag warning light on the dash display.
Symptoms of a faulty airbag module vary but can be one or more of the following:
SRS airbag warning light on
Fuel cut off unavailable message on the dash display
Flashing mileage display
Blowing airbag system fuses
No communication with diagnostic scanners
Unable to perform any diagnostics on the airbag system
These are all classic symptoms when a fiat 500 airbag module is internally faulty and you only have two options to rectify this fault.
One is to visit a Fiat dealership and have a new airbag module installed which could cost you about £500.
The cheapest solution to this problem is to buy a used airbag module with the same part number as your original from a breakers yard.
Once it is installed in the car all you need to do is carry out a simple procedure called proxi-alignment which is done with a diagnostic computer. It doesn't need to be any special or high level diagnostic computer, in fact most which can talk with the airbag system will be capable of running proxi alignment, examples are Delphi or WOW diagnostics, Launch X431 & Fiat "multiecuscan" (Multi ECU Scan).
Proxi alignment is the process of syncing a used airbag module to your vehicle & as long as the part numbers are the same there is no special or extra programming required.
If you don't have access to a diagnostic computer then an independent garage or mobile technician would probably charge about £40 for this job.
So no fancy equipment needed, no expensive modules or repairs, just get yourself a good used unit, pop it in and run proxi alignment with a computer. This is the cheapest & easiest way to fix your faulty Fiat 500 airbag ecu.
Popular module part numbers which go faulty are :
51870005 , 51897810 , 51918659, 51918197, 51838580, 51963734
To help you further we have found cheap replacement airbag ecu's for sale on ebay, please click the link or picture to browse modules currently for sale.
*
Click here to find Fiat 500 modules for sale on ebay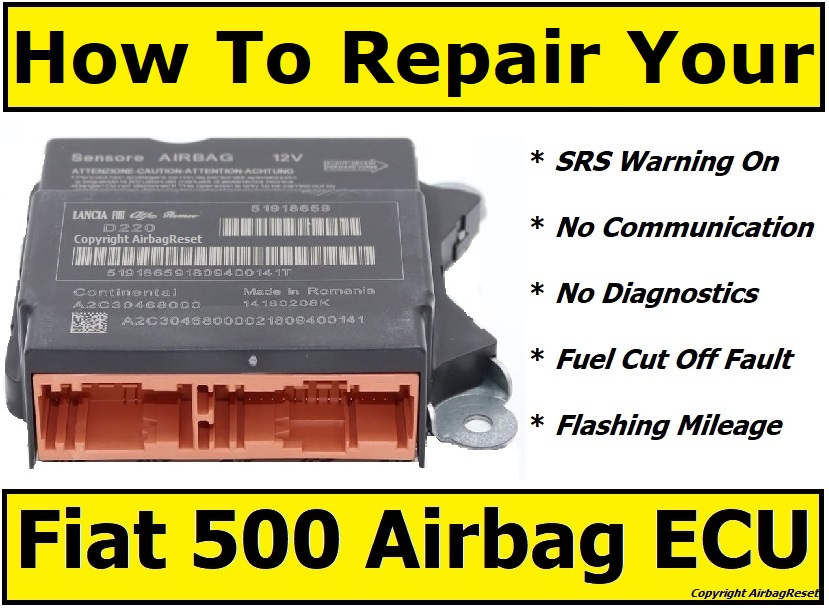 *
Copyright © 2005 - 2020 airbagreset.com